Together we can make it happen! Better, cleaner waste-free and less pollution festivals! This festive season we take a look at what we have done and how we can do more.
Health, happiness and prosperity to you this festive season!
[vc_single_image image="1969″ img_size="" onclick="link_image"]
[vc_single_image image="1970″ img_size="" onclick="link_image"]
[vc_single_image image="1971″ img_size="" onclick="link_image"]

We love celebrations, especially those that bring family, faith and an opportunity to do something interesting. Ganesh festival kicks off a slew of festivals including Dussehra, and Diwali and we hope all these festivals are enjoyed in an eco-friendly way.
The SWaCH Nirmalya event started organically with waste pickers wanting to serve the city, its rivers and participate as only they can in the Ganapati celebrations. Like every year, this year too SWaCH had adopted 18 ghats across the city in order to divert nirmalya and do their regular effort for a Happy Ganesh festival. Made possible be generous sponsors Cummins, Emcure and Sudarshan and supported by the citizens and PMC, this event creates awareness about the need to stop pollution in the rivers and better waste segregation as well.
"We have been doing this for years now", said Rajabai Sawant a SWaCH member who has been at the ghats for several years now "and it gets more organized each time. The atmosphere is electric and you get caught up in the fervour" Her sentiments are echoed by Priya Kathuria, Operations and Events Head at SwaCH "The city is growing, but so is the awareness among the citizens. Those who come for visarjan expect us at the ghats and the event which helps divert and dispose off Nirmalya from the rivers has also succeeded at creating awareness in its own way". Apart from waste pickers and staff stationed on the 18 ghats across PMC and PCMC to enable an eco-friendly celebration, a call for Volunteers through traditional media like newspapers and radio and also through social media like Facebook, texts and whatsapp etc. had many sign up. Citizens could access Ghat locations and specifically assigned coordinators listed on SWaCH website and face book and whatsapp messages making for a smoother engagement.
Volunteers ranged from self- help groups to several first time volunteers and some who have been participating in the efforts for several years now. Shailaja Deshpande of Jeevit nadi, who is actively involved in river preservation on a regular basis and is a knowledge partner with SWacH ,volunteered alongside SWaCH workers at one of the busiest spots , and remarked on the organised and disciplined approach "People these days are gradually getting aware about conservation of environment. Most agreed to immerse the idol in the tank and almost everyone handed over the nirmalya to us. With several years' experience in doing this, the SWaCH team was very organised and ready for the crowds. Many people were appreciative of the facility provided and offered prasad to the staff and volunteers after the immersion. With active participation by more citizens (in volunteering), I am hopeful it will get better with each year and that we will be able to gradually clean our water and rivers."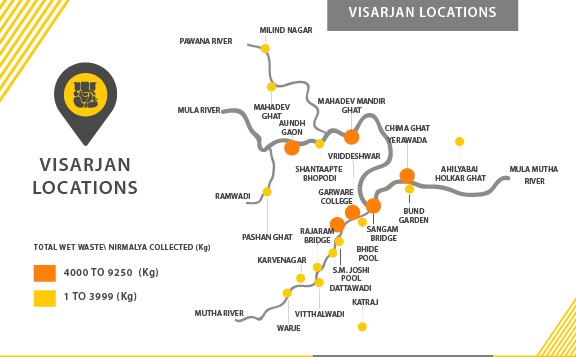 The wet nirmalya to be taken for composting amounted to approximately 97 tonnes. Over 24 tonnes of dry waste were diverted away for recycling and processing, and over 33,000 idols were immersed into the tanks provided by the PMC and PCMC. While the final day of visarjan always sees more participation, the over 80 staff and 130 waste pickers on each day were joined by several enthusiastic volunteers like every year.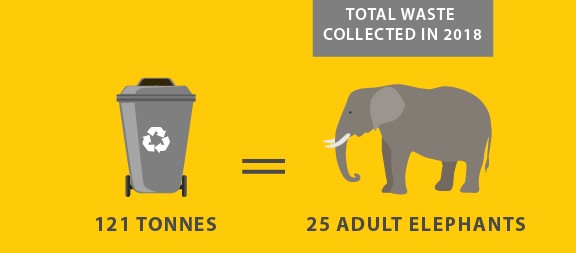 Varsha Chitale, who volunteered for the second time this year, along with several others had this to say "This is such a great opportunity to bring awareness among this young generation. We can participate in the festivities and also get a chance to make a difference to our environment."
A spokesperson from the sponsor – Cummins summed it up as "Cummins strives to provide solutions towards environmental sustainability while believing in a collaborative CSR. Nirmalya initiative began several years ago in partnership with Pune Municipal Corporation, Swach and other partner organizations and has since been successfully scaled up and replicated, demonstrating environmental sustainability through collaboration with partners who share similarly thought process and passion towards the environmental care and sustainability.
Since last three years we are converting Nirmalya into Compost with the help of GoVidnyan and distributing it to farmers. This time we have also approached 40 societies and collected Nirmlaya directly from them to convert it into compost and also created awareness and Ganesh idol making workshop in schools.
Every year all our volunteers passionately work alongside swach to convey the message of restricting water pollution."
Over the years it has grown to be a flagship event for SWaCH and of course the citizens who understand that rivers need to be kept clean.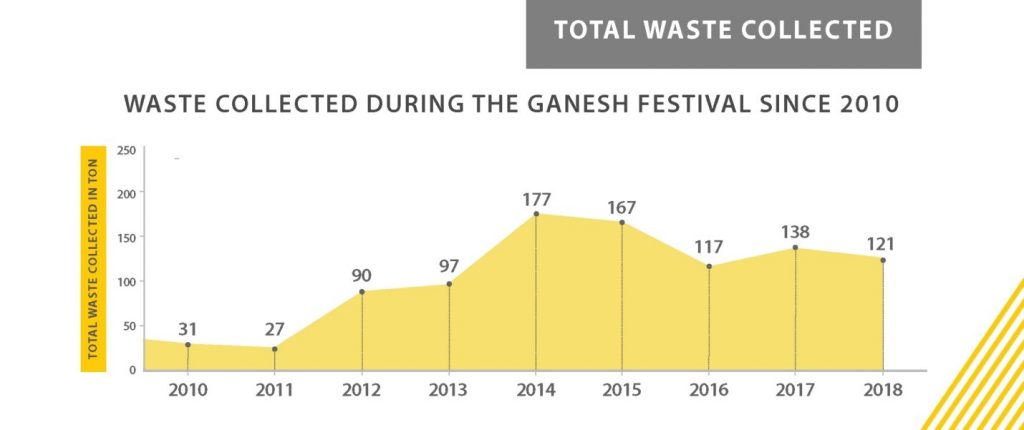 SWaCH thanks those who volunteered and urge citizens to participate next time as well. We hope you will also participate in other events on waste segregation and disposal and help make the environment better. You can register on our volunteer form, if you'd like to know more and help on a regular basis.